Image courtesy Shoalhaven News 2ST – 28th April Day of Action
Huge rallies are planned to be held across the country today as advocates warn the National Disability Insurance Scheme (NDIS) is in danger of failing to achieve its aims.
One specific focus of many protests today will be the NDIA's move to review participants' individual plans, which many service providers assert represents little more than a blanket cut across the board and an attempt to reign in spending on the scheme. Many participants have been confused and alienated by the review process, seeing this as little more than an attempt to slash expenditure on the scheme. Peak Body National Disability Services is using the rallies to call for all political parties to commit to:
Proper Planning – so people with disability have the resources they need to build the right team for them,
Fair and Independent Pricing – so providers can deliver the services people with disability need, and,
Genuine Partnership – a real commitment from the Federal Government to work with participants and providers to build a scheme that delivers long-term support.
One key issue that's concerning some service providers is the way the current reviews are being conducted.
The CEO of Costal Residential Service in north-western TasmaniaDee-Anne Kapene, suggests "paying $230 an hour for assessments to come up with strategies that those who are caring for clients just doesn't make any logical sense".
A Coastal Residential Service Event in 2019; the days BC – Before Covid
Kapene speaks clearly and forcefully about the need to direct money that's being spent on the scheme effectively. "What we need is the money to support those who need it. We are intimately involved with these peoples' lives. We don't need assessments from possibly inexperienced people who certainly don't know our clients as well as we do simply to tell us to continue providing supports that we are already providing."
Another analyst who asked for anonymity wondered exactly what the real driver of these reviews actually is.
"This is not to suggest that there may not be some individual cases where a review is necessary and where plans may have been 'bulked-up'. but that's not the case in most instances. You really have to wonder if this is not simply an attempt to slash away at the scheme and save money."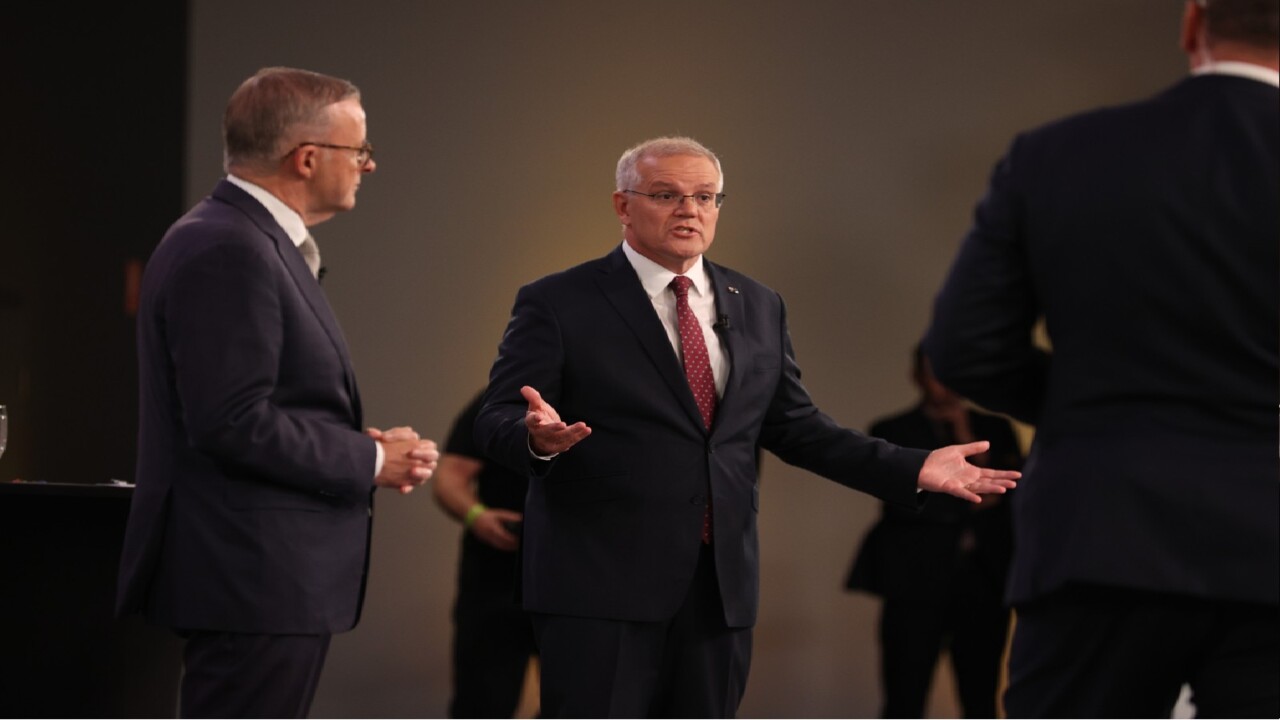 Image courtesy Sky News
Labor's Disability Spokesperson Bill Shorten seized on Scott Morrison's reference to disability in the first leaders debate on Sky TV.
The moment when Mr Morrison lost the night for me was when an audience member Catherine Yeoman asked him why her child's National Disability Insurance Scheme plan was cut.

The Brisbane mum's son, Ethan, has autism and has had his NDIS plan cut by 30 per cent with no explanation from the National Disability Insurance Agency (NDIA).

Instead of answering her question, Mr Morrison, as he is wont to do, turned the spotlight on himself and said he had been "blessed" to not have children with disability.

Understandably, this peeved a whole lot of people with disability and their families. Mr Morrison said it was an innocent mistake. People with disability called bulls…. 
Australian of the Year Dillon Alcott similarly picked up on the PM's comment.
"Woke up this morning feeling very blessed to be disabled I reckon my parents are pretty happy about it too. Feeling sorry for us and our families doesn't help. Treating us equally, and giving us the choice and control over our own lives does."
Seperately, Scott Morrison later apologised to Alcott. In regard to this specific issue, Conservative political sources suggested that the PM was speaking from the heart and had no intention of "stigmatising disability" and it was just "an unfortunate choice of words".
Perhaps more to the point an independent analyst suggested that while "this may be true" and Morrison might have been quite genuinely "speaking from the heart" this revealed something deeper about his whole attitude to disability.
"The term 'blessed' makes this into a religous issue when it's got nothing to do with God. It's not about good luck," she continued, "it's about disability and if we are going to support those who need it and properly resource the NDIS to do what it was meant to achieve."
Image courtesy National Disability Services
As part of the National Day of Action to Defend Our NDIS, sector peak body National Disability Services has organised events in major cities including Sydney, Brisbane, Darwin, Perth, Canberra, Hobart, Melbourne, Cairns, Geelong, the Central Coast and the Illawarra. Details of planned activities can be found at this link.
In Canberra Koomarri and Hartley Lifecare are (rain permitting) hosting a BBQ to meet candidates from all parties and hear from sector representatives, people with disabilities and family members.
In Illawarra and Shoalhaven the Illawarra Disability Alliance will form a "circle of support" for people with disability in the Wollongong Arts Precinct between 10:30 and 11:15, telling stories, meeting with election candidates, and lobbying for support to defend our NDIS.
Similar events are being planned across the country.